Linear Acoustic Ceiling Panels Melbourne from Atkar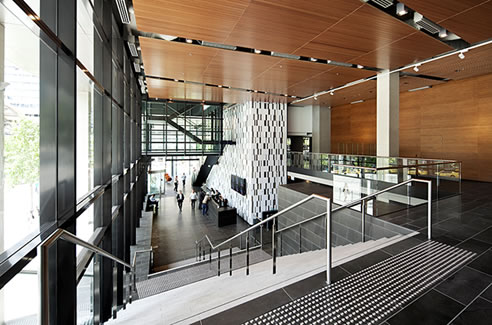 Au.diSlat linear acoustic ceiling panels installed at state of the art
Media House building at Docklands.
This new head office for media group Fairfax required the highest quality acoustic and decorative lining systems that complied with demanding environmental criteria.
Atkar's FSC certified Au.diSlat was the perfect solution to fit Bates Smart's exacting brief for a decorative linear timber acoustic ceiling that met their environmental requirements. Two contrasting finishes were installed: American White Oak, stained warm medium brown for the main ceiling areas together with highly finished white gloss ceiling panels for lift lobbies. Significant ceiling heights, angles panels and complex service integration further demonstrate Atkar's commitment to deliver beyond expectations.