Pelmet Lighting Solution from Intralux Kove Professional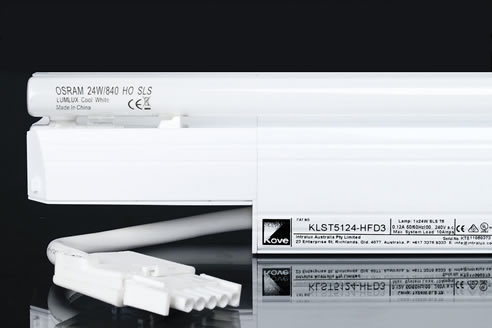 Kove Professional - 'The ultimate pelmet lighting solution
Kove Professional is the ultimate pelmet lighting fixture designed and manufactured in Brisbane Australia. The luminaire presents as a functional lighting, turn-key solution for building designers through to facilities managers and occupants. Featuring high performance, energy efficiency, ease of installation and maintenance while also offering piece of mind with a factory 5 year warranty, Kove Professional really offers the best of all worlds.
Intralux first introduced the Kove innovation to the specification market in the early 90's. Now the 4th generation family of products have emerged offering unparalleled benefits to designers and users. Kove Professional utilizes the new, sophisticated Osram Seamless T5 lamp providing unheralded product design opportunity. As a true capless lamp, this enables end to end lamp illumination thus further reducing the product footprint. The fixture design allows for a truly semi-asymmetric light distribution which means more light is distributed to where it is needed to ensure the efficient illumination of a space. Kove Professional fixtures offer a wide variety of lamp wattages as well as the multi-tube modules which enable long run lengths to be simple, quick to install and highly cost effective. All modules are pre-assembled from factory complete with lamp and all connections, enabling rapid, low cost installation. These systems are all third party certified to Australian, European and North American compliance standards.
The renowned and faultless 'Plug + Go' system which has been a standard product benefit throughout the history of Kove continues with a new 5-way connection facility. The 'Plug+Go' system offers several advantages including the connection of numerous modules into one power source, and the easy integration of a dimming control system into a lighting design - A truly 'all in one' connection solution.
Kove Professional is the ultimate in specification grade pelmet lighting systems enabling a cost effective, sustainable, engineered solution for your project.
Kove Professional offers:
A 5 year factory warranty*
Compliance to third party standards for Australia, Europe and North America
Is 100% Australian designed and manufactured
Is energy efficient whilst achieving high performance
Is the ultimate pelmet lighting solution!