3D Wall Panels Sydney Scoliosis Clinic
3D WALL PANEL DESIGN: "Flow"
3D WALL PANEL FINISH: Desert Impressions wood grain vinyl
LOCATION: Sydney Scoliosis Clinic, Kogarah NSW
INTERIOR DESIGN: Craig Robilliard of Architectural Rendering Sydney
FITOUT: RPS Project Services, North Sydney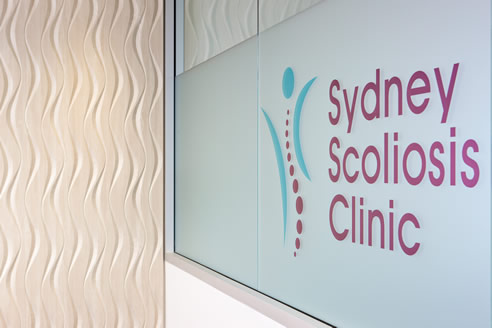 Reception area feature wall in 3D wall panels "Flow" design, finished in Desert Impressions vinyl.
3D Wall Panels of Sydney has created yet another happy customer. Dr Jeb McAviney of the Sydney Scoliosis Clinic chose their panels to create a warm and welcoming reception area and office space. Dr. McAviney specializes in scoliosis and treats many young patients, and because of this he wanted to ensure that they feel comfortable and relaxed upon reaching his office. To change his space from cold and clinical, Dr. McAviney went with the warm and inviting wood grain tones of the "Desert Impressions" vinyl finish during his renovation. He chose 3D wall panels in the Flow Design which is reminiscent of the natural shape of the spine. He was very pleased with the final look and has had several compliments from patients and visitors alike.
The wall's life like 3D style has turned the heads of all who come to the Sydney Scoliosis Clinic. The effects are so real that many feel compelled to touch and get close to the wall panels to see for themselves what it is made of. Even the other residents in the building have had to investigate them!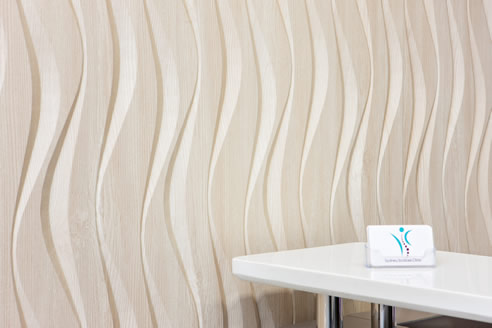 The shape of the wall panels is reminiscent of the shape of a spine.
3D Wall Panels can be purchased raw or coated in a variety of finishes. Customers can choose from 2 standard sized panels either 2400 x 12000mm or 2700 x 1200mm. If you prefer, panels can be cut down to custom sizes to perfectly fit your walls.
In addition to a wide array of styles to choose from, 3D Wall Panels offers both indoor and outdoor wall panels which are sure to spice up any environment. An added bonus is that the panels are made in Australia and are ready to be shipped anywhere in the country in a short period of time. While the company does not install the panels they can refer customers to shopfitters who can install them.
Perfect for any office, shopping centre or business office, 3D Wall Panels brings life to your walls and excitement to your business. Their innovative design and unique style options are a sure fit for any interior designer's tastes. Get your free quote and find the right texture for your project today.
Need a quote for 3D Wall Panels™?
Transform the look and feel of your interiors or outdoors 3D Wall Panels™. For a quick quote visit www.3dwallpanels.com.au, phone (02) 9725 4222 or email.