Urbanfil® Two-Part Recessed Access Covers from ACO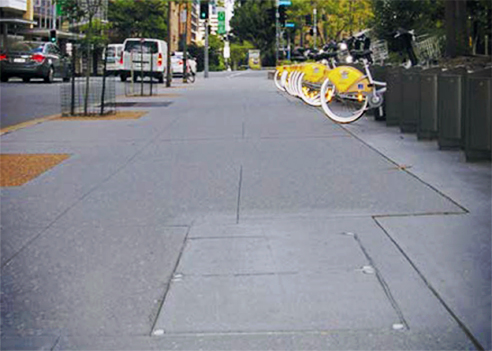 CityCycle is Brisbane's public bike share program to encourage more people to cycle around the inner city. It forms an important part of Brisbane City Council's plan to help reduce congestion and ease parking pressures in the Central Brisbane District. A number of stations, from St Lucia to New Farm, house over 2000 bikes collectively which are accessible to the public, 24 hours a day.
Project Design Brief
Having access to the underground cable infrastructure around the bike stations, is key to the City Cycle program's low maintenance. Secure and discreet cable pits were required at designated points adjacent to the bike stations.
ACO's Solution
Urbanfil® two-part, recessed access covers.
Benefits
Visual continuity of the streetscape pavement is preserved as the pavement material is bedded into each cover with a discreet 2mm metal edge.
Four high tensile, M16 locking bolts per cover, deter unauthorised access to the cables.
For more product information visit: www.acoaus.com.au/access.