ACO's Revolutionary Stainless Steel Drainage Pipe Systems

As a superior alternative to PVC and HDPE drainage pipes, ACO's revolutionary stainless steel drainage pipe system combines effectively with ACO's other Building Drainage products to provide a complete water management solution for buildings.
ACO Pipe® is manufactured using high quality grade 316 stainless steel. The pipe components are modular, designed for performance, durability and ease of installation.
Best of all, ACO Pipe® is easy to assemble with push-fit connection, practical and available from 0.15 metres, all the way up to 6 metres in length.
Pipes and fittings are available with the following external diameters:
50mm,
75mm,
110mm,
125mm,
160mm; and,
200mm.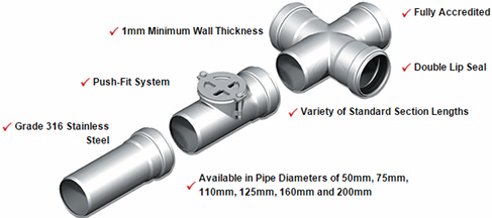 Let's take a look at why you should choose stainless steel piping drainage products over other traditional piping materials.