Introducing PowerLok® Barless Cable Pit Locking System by ACO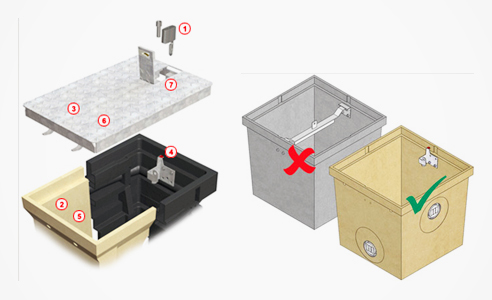 A new innovation from ACO, the patented PowerLok® barless locking system has been designed to help secure lids to cable pits. Whether you need to use it for Polycrete® Pits, or ACO's plastic pit range, PowerLok® is designed to lock your lid directly to a pit through a fastened bracket without the need for a low hanging locking bar.
If you're wondering how PowerLok® works - it's really quite simple. For basic locking, all you need to do is close the spring hatch. Then, by sliding the clip mechanism, shut it to engage the bracket. This provides a low (but safe) level of security for basic cabling applications.
For high-security areas, including military zones or other sensitive environments, you might require a more secure locking system. The PowerLok® features a bolt or padlock provision that can fasten the lid to the pit via a purposed designed bracket. When the tab slides into position and ultimately locks the lid, you can be sure that no one is going to be able to access it.
Check out our installation demonstration for the PowerLok® locking system here. Alternatively, read on to learn more about some of the features of the PowerLok® system.