INFRA-RISER® Rubber Composite Adjustment Riser by EJ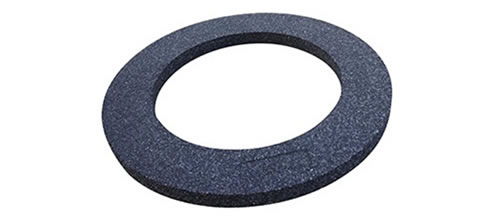 Rubber Composite Adjustment Risers play a vital role when it comes to the lifespan of a manhole and access structure. INFRA-RISER® is a rubber composite adjustment riser designed and manufactured by EJ. INFRA-RISER® reduces traffic vibration damage - prolonging the lifespan of manhole structure and the surrounding road or pavement.
Vehicles cause chronic stress on manhole frames. As time passes by and two inelastic surfaces constantly come into high-stress contact with each other, the impact and friction between the two gradually damages the surface of the road surrounding the manhole. The damage is often worse below the surface causing permanent damage to the manhole structure and its attached network.
Made of 92% recycled raw materials such as recycled rubber tyres, urethane binders, and fortifying additives, INFRA-RISER® rubber composite adjustment riser is an environmentally friendly material that helps lessen traffic vibration damage. Due to its compression properties, it acts as a stabiliser and accessory that uniformly distributes the traffic loads over the entire support surface rather than concentrating all that friction and impact in specific high-stress areas.
The INFRA-RISER® rubber composite adjustment riser also dissipates the energy transferred amongst the casting and the manhole frame. Because the adjustment riser separates the surfaces, the stress component is drastically reduced enabling the two elements to work together, as opposed to working against each other. This helps maintain the integrity of the infrastructure support system.
INFRA-RISER® will not split, break, crack, rot, or chip and will last indefinitely; making it the ideal tool for Local Governments aiming to supersize the performance and prolong the lifespan of infrastructures, while at the same time, achieving significant cost savings.