Aluminium Safety Hatch for Large Openings from EJ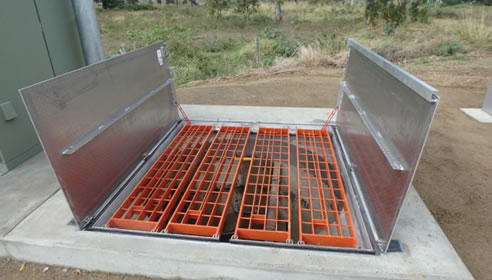 Rocky Rolls out a New Aluminium Safety Cover by EJ
The Rockhampton (Rocky) Regional Council (Fitzroy River Water Office) has an ongoing program of upgrading its infrastructure and on their recent list was a refurbishment of the Lakes Creek Sewage pump station.
EJ was able to assist in the best way possible with the supply of an Aluminium Safety Hatch to replace an existing cover over an old chamber. The job specified an extra-large opening: 1830mm x 1830mm.
This state of the art system offers the easiest of access, once unlocked. The covers being made of tough, but light weight tread patterned aluminium, swing open with ease and the dual leaf covers lock into place to prevent accidental entrapment in the chamber.
The big safety feature is the safety grate system itself that opens and closes independently of the main cover and protects from accidental falls into the chamber when work is taking place.
Finally, it is imperative that such infrastructure be secure from vandalism, tampering or sabotage so this system is fitted with lock-down capability.
EJ is supplying local authorities all across Australia with this innovative, safe, easily installed and maintained cover. If you want to know more, please contact your nearest branch or call 07 3216 5000.