Grease Level Sensor for Reduced Ceiling Heights from ACO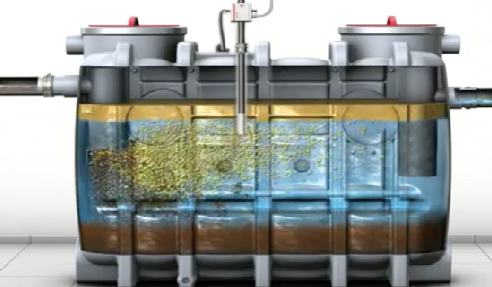 ACO Grease Level Sensor reduces ceiling heights in above ground applications
ACO has developed a key product to accompany its EcoJet line of above ground, free-standing grease separators. ACO's EcoJet is a range of freestanding separators installed above ground and often in compact spaces, such as in multi-storey car parks. ACO has innovated a Grease Level Sensor, which is compatible with EcoJet models to monitor safe levels of grease in the separator with a grease level indicator. Some water authorities require clearance of double the height of the grease separator above the separators to allow sufficient room a measuring stick. The ACO Grease Level Sensor is a solution to this height problem.
ACO Building Drainage Product Manager, Kate Jennings says their manufacturing team worked closely with designers throughout Australia and has developed a solution to solve the problem.
"(We) have found that there are often design issues with achieving required clearance heights for freestanding grease separators inside buildings. To combat this, ACO has launched a Grease Level Sensor for EcoJet above ground grease separators, which alerts the user when the maximum level of grease has been reached,"
"This may negate the double height clearance requirement as traditional measurement methods are no longer necessary," she said.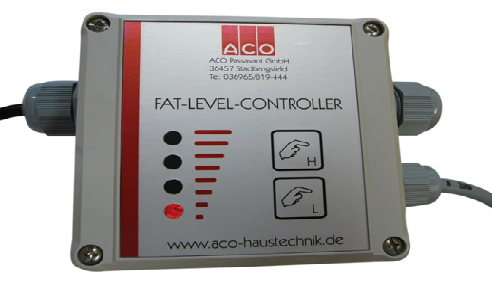 Servicing grease separators
According to the Wastewater Pre-Treatment Guideline (2012), the maintenance and management of businesses with grease separators that operate all year round typically require grease separator servicing at 3-month intervals, but less frequently if the environment is not in operation throughout all times of the year. The Grease Level Sensor accessory alerts the user when the maximum level of grease has been reached and a pump out is required.
Designing projects for grease separators
As stated in the Wastewater Pre-Treatment Guideline compiled by the Office of Environment & Heritage (2012), an "ineffective or defective grease separator could lead to a sewer blockage which can result in severe consequences" (p. 14). To avoid unwanted, costly and dangerous accidents, designers have a legal responsibility to ensure that the construction and maintenance of public spaces under their authority are of the highest standard possible. In the example of car parking facilities, "ease of access and pedestrian movement" as well as routes enabling movement in all weather conditions are paramount to the functionality and design of the facility, as well as the interest of community safety (Parking and Vehicular Access General Code, p. 13, 2011).
Under Water Corporation grease separators installation guidelines, a grease separator must be installed by a licensed plumber in accordance with trade waste requirements and manufacturer's instructions in a manner that inhibits discharge and overflow harmful to the environment and allows for the proper functioning of the separator, regular access to maintenance and servicing. (Sydney Water, Plumbing Code of Australia, 2012).
Grease Level Sensor function
The ACO grease level sensor is an optional component of the ACO EcoJet above ground grease separator package. Highlighted on the ACO Passavant Product Data Sheet, the Grease Level Sensor uses its monitoring design to indicate when the maximum grease level is reached. It also eliminates the need to accommodate the height of a traditional measuring stick, so designers no longer need to allow for double the height of the ceiling with this economical, compact design.
As seen in the video animation of the sensor in action, the EcoJet grease level sensor allows for accurate readings on grease capacity, where the green LED light indicates safe levels of grease in the separator and rises to indicate a rising capacity at different intervals. The red LED light indicates that the grease separator has peaked at its maximum capacity.
The sensor works with all EcoJet grease separators in the series. It is compatible with all models from 630L to a maximum capacity of 2000L. Sydney Water has approved the sensor for New South Wales applications and it is lightweight and compact to economise on space and easy to install. The device is a highly popular choice for designers as it provides minimal disruption maintenance and servicing access as well as access for pedestrian and vehicular traffic.
The easiest way to ensure the safety of the public along with the efficient disposal of greasy waste is to discover the ACO Passavant EcoJet range of above ground grease separators and the accompanying ACO Grease Level Sensor.
ACO has had huge success in delivering the ACO product range in both national and international projects including hospitals, schools, universities, community centres, airports, shopping centres, hotels and railway stations applications.
Contact ACO for assistance in designing your next project.