Acoustic Ceiling and Wall Design with Au.diPanel by Atkar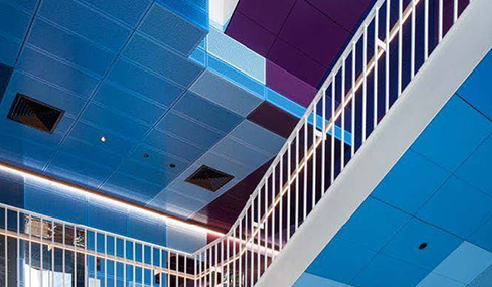 5 Ways With Au.diPanel
When it comes to an acoustic ceiling and wall design, Au.diPanel offers a highly versatile option. With superior looks, durability and highly effective acoustic control, Au.diPanel perforated timber panel is ideal for quality interiors where aesthetics and acoustic performance is important.
As our most customisable acoustic solution, we show you 5 ways our clients have used our Au.diPanel:
Custom shapes for a three-dimensional effect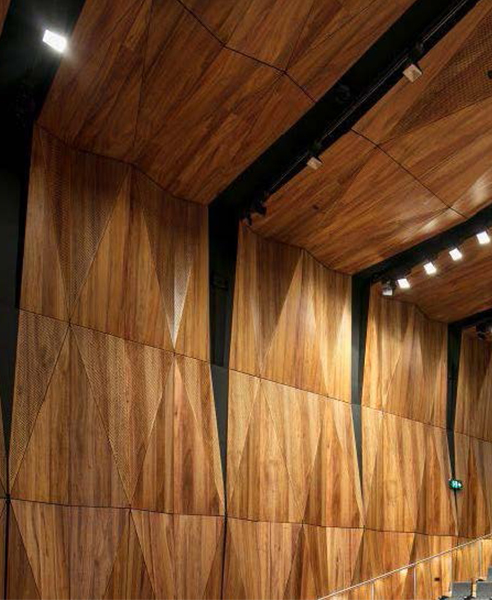 The versatility of Au.diPanel's customisation is displayed perfectly in Trinity College's auditorium. A truly unique project, this exceptional design features a combination of perforated Au.diPanel and solid triangular timber Au.diStyle panels creating a symmetrical wave-like contrast. The custom folded 3D ceiling panels wrap down onto the walls and flow from the entrance into the auditorium to provide optimum acoustic performance with a simultaneous visual impact.
Select Au.diPanel Graphic for a truly customised design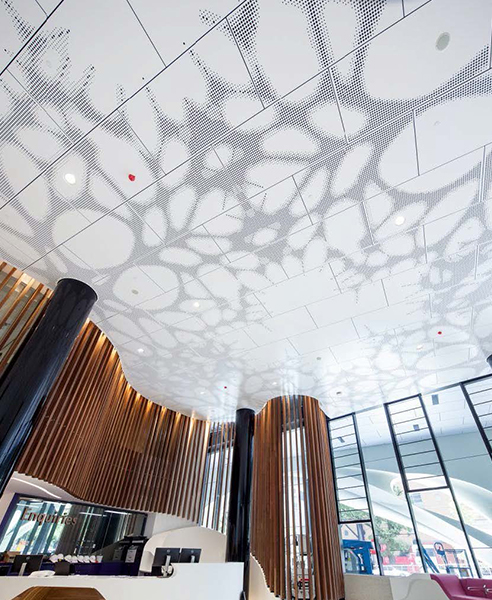 For a solution that offers even more customisable options, Au.diPanel - Graphic includes our widest range of perforation options, including tailored patterns and sizes for a truly bespoke effect. Au.diPanel - Graphic was used for the award-winning Victorian Comprehensive Cancer Centre, where we worked closely with the architect to develop the stunning graphic pattern on the Welcome Hall ceiling. The products used throughout the project had to be high-quality acoustic linings compliant with strict regulations pertaining to such a sensitive project.
Achieve curved surfaces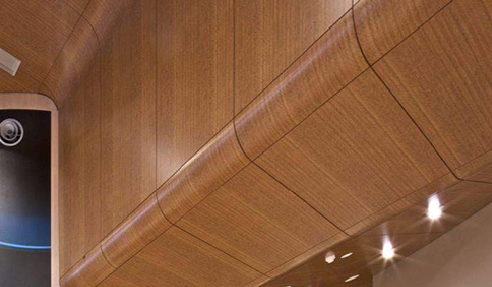 OPSM's first concept store had an innovative and challenging brief that demanded continuous ceiling flows with precise curved corner details. Au.diPanel was the perfect solution to deliver on the architect's vision across this extensive site. Both Au.diPanel perforated and Au.diStyle solid panels were installed with no visible fixings, integrating perfectly with angled feature walls and bulkheads.
Match with decorative solid panels for a seamless integration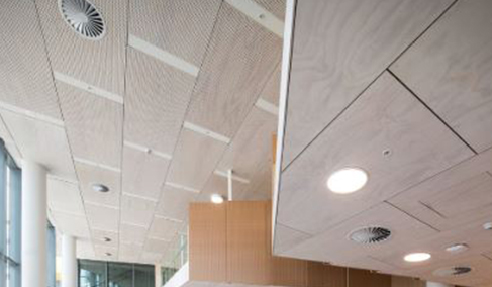 The newly completed Library at Monash University's Caulfield campus was designed to ensure a functional and focused workspace flowing through the different zones. Au.diPanel perforated panels were matched side-by-side with Au.diStyle decorative solid panels in matching plywood with a limed finish. The integration of both acoustic and decorative panels provided the sound control functionality with the aesthetic quality that the architect required.
Au.diPanel also allowed for easy integration of the services and fittings in the ceiling, with full customisation resulting in a subtly concealed functional space.
Panels that come in all shapes and sizes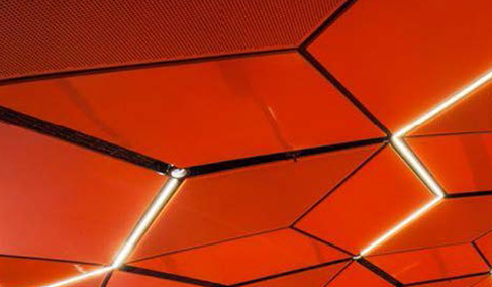 Au.diPanel does not need to be a simple rectangle - but can be custom cut in any shape or size to suit your design. This was the brief we received for the multi-award winning Geelong Library and Heritage Centre. The design of the Au.diPanel was a to create an illusive hypercube, derived from a number of hexagonal panels. These panels were made up of a combination of drilled panels and matte finished solid panels and painted a magnificent orange to create a truly unique space.
Find out more about Au.diPanel, visit www.atkar.com.au.