SAFE HATCH™ Safety Grate Access Hatch from EJ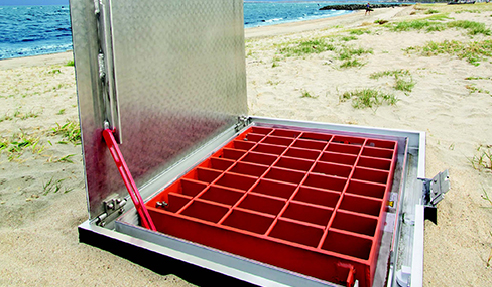 A Grate & Clever Plot Hatched Well by EJ
This is the story of how best to provide safe, easy, secure access to valuable infrastructure. It's the story of the EJ Aluminium Access Hatch, an ingenious invention designed for today's civil and construction industries. This is no ordinary hatch. What makes this a story you just can't put down is the twists and turns in its manufacture.
When you open it up for the first time, you realise how easy the action was. The secret is revealed to be the Lift Assist, a pneumatic, state-of-the-art CNC controlled precision rod. It is strong enough to assist opening of both aluminium or steel hatches.
The next chapter of this riveting story is about the SAFE HATCH™ Safety Grate System. You can't miss them when you open the hatch in their bright safety orange painted finish. In wide applications, they open as twin grates and lock themselves into place in the upright position, providing generous access to the pit.
It would be no surprise to know that they can be ordered in a range of sizes and load classifications. The CLN Series is Pedestrian Rated Class A (10kN). The SAFE HATCH™ Grate comes as an integral feature. On top of the hatch, has a checker pattern to prevent slipping in wet conditions. Along with a recessed padlock clip, the hatch utilises the slam lock system both features making the hatch completely secure. The lifting handle is a drop style that sits flush when the cover is not in use.
They're also fitted with a unique T-handle key that unlocks and can then be used to lift the hatch. When closed, the noise suppression rim seal means when walked on, eliminates rocking and therefore, noise. You can order either a single cover or double cover style, both CLN Series, both strictly pedestrian traffic rated only.
In the next series, the CHS Series, occasional traffic can be accommodated with its Class C (150kN) load rating. The storyline changes up a little here because these hatches have all the features of the CLN Series, but have had to be built more robust.
If you have a plot to hatch, contact your nearest EJ branch or visit www.ejco.com.