Single Access Covers - ERMATIC™ for Airport Taxi-ways from EJ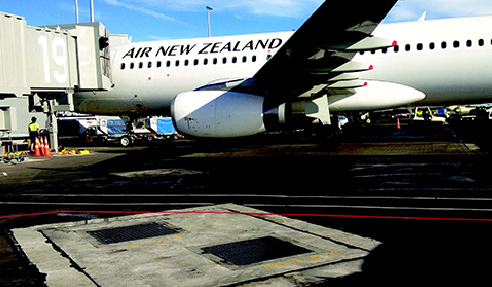 Air & Sea Ports Take a Pounding
That's Why There's EJ
All that heavy machinery - monster aircraft on one hand, massive container cranes on the other - is a recipe for disaster if access covers and grates are not up to scratch. This might seem like an obvious statement but it's why EJ specialises in producing infrastructure access solutions that lap up the toughest traffic rumbling over it.
In infrastructure, our first port of call is manhole frames, covers and assemblies. We begin with the extra heavy-duty cover, load rated up to Class G (900kN). This is designed and built to handle trundling Dreamliner size traffic and easy enough to access by one person. This means maintenance can be carried out quickly, so as not to compromise busy airport movement.
And then, for gastight concrete infill covers Class E, F and G, EJ has the stock, ready for delivery. And for the ultimate in modular access covers, EJ comes up trumps with the exclusive ERMATIC™ range, which combines ergonomic design and security in one. The selection includes 1/2/3 covers and frames and covers with removable beams for those major underground works which require a larger than large clear opening. In finishing touches, the EJ airport inventory includes a solid range of airport extra heavy duty junction boxes and frames with covers or grates, double and single, in tough ductile iron, as well as circular or square cleanout/monument boxes and covers, and airport mooring eyes, all in ductile iron.
Trench grates around airports and ports also need to be capable of holding up under immense weights constantly moving over them. Longitudinal and transverse ductile iron grates rated at Class G (900kN) are commonly specified for both airports and ports. Class E and G (400kN to 900kN) sump grates in ductile iron are also available, and a range of linear trench grates and a slotted drain vane grate completes the airports' grates inventory.
And EJ, outside this specialist airports/ports infrastructure, can also supply almost everything required to build new or upgrade existing airports/ports. Manhole frames and covers, aluminium access hatches, utility and drainage castings, fire hydrants, gate valves and valve boxes, meter boxes, tree grates and detectable warning plates. With all this available under the one roof at EJ, you can see why our reputation for being the airports and ports specialists in infrastructure are up there as the best.
If you need assistance with planning your needs, contact the airports and ports team at EJ or visit www.ejco.com.