Stainless Steel Slip Proof Roof and Floor Drains from EJ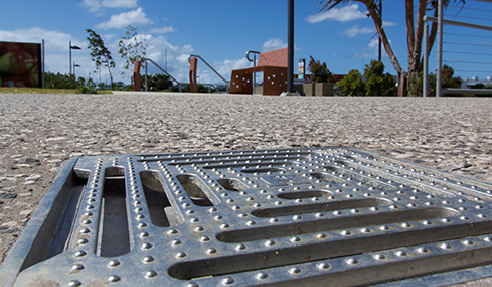 Make Just One Stop for Roof and Floor Drains
How many times have you seen floor drains, buckled and dipping, that have succumbed to the pounding of thousands of feet. No way would these feature the EJ branding. Because at EJ, we pride ourselves in designing and manufacturing floor drains that will withstand the most punishing traffic on the planet. And we have them all on hand, under the one roof.
Cast in stainless steel, EJ drains not only look good all their long lives, they perform without buckling or dipping in the centre. Short Body Floor Drains are available in a range of sizes from 50mm to 150mm and come with the plastic vertical short body, ready for easy installation.
Vertical Deep Body Floor Drains also cast in stainless steel, 100mm or 150mm square or circular, come complete with stainless steel strainer baskets, buckets and strainer plates. These grates are also cast as non-slip and heel-proof and with their sleek stainless steel finish is the obvious choice for quality projects.
EJ is also the home of highest quality Roof Drains, some in cast iron, others in aluminium. Our circular or square Slip-in Tops can be lock-down secured and are cast in high grade, hard wearing stainless steel.
Many applications require the installation of 90° Body Floor Drains. EJ stocks two types: Cast Iron Horizontal Bodies and 90° Body Plastic Horizontal Bodies. Both are topped with lock-down, square, non-slip drainage grates.
Efficient drainage of rooftops and carparks calls for specification of EJ Hydraulic Capacity Outlets & Grates. There's an extensive choice of outlet head sizes with estimated flow rates from 0.56 litres per second up to 30.75 litres per second. Downpours down the tube! Once again, two drainage grate shapes are available - circular or square.
And last but not least, EJ completes their range with Specialty Drains - Planter Drains, Inspection Points, Prison Floor Drains, Hospital Floor Drains, Flushing Rim Floor Drains and Pedestrian Safe Floor Drains.
All tops are securely locked, tamper-proof and vandal-proof. All have slotted drainage grates, with the exception of the Inspection Point, which is a hardcover. The Pedestrian Safe Floor Drain is available in 100mm, 150mm, 200mm, and 300mm square with 5mm spaced wedgewire grating. Both the Hospital and Flushing Rim Floor Drains are sized 140mm wide with vinyl circular tops in 80mm and 100mm outlets.
For a Roof & Floor Drains catalogue, check with your nearest EJ branch or visit www.ejco.com.