The Importance of Home Care Software for Financial Transparency in Aged Home Care Packages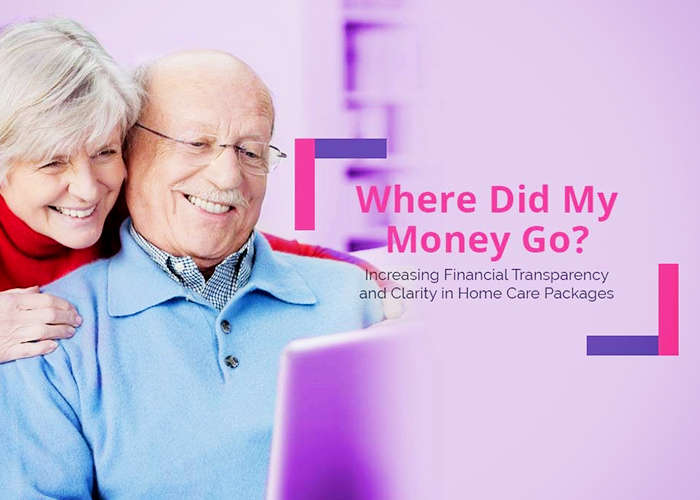 Home care or aged care services are an alternative for families who seek peace of mind that their loved ones remain well while they deal with the hustle and bustle of their daily lives. However, these packages comes with a price. Although there is government allocated funding available via MyAgedCare, CHSP, and NDIS among others, home and aged care packages are especially expensive for those who intend to privately fund this care.
Is your aged care or home care service value for money? Family members require financial transparency and clarity, which is a fatal flaw of some providers. With high care package costs, care recipients and their families are prompted to demand accurate financial statements to assess where their money is going.
According to a study headed by Leading Age Services Australia (LASA) and Aged Care Matters, home care and aged care providers that lack financial transparency receive the highest number of complaints regarding overpricing, with some elders or families reporting they were being charged more than the agreed services they received in return. According to some participants, they were "charged for seven days when they only received support for one or two days a week."
Tackling financial transparency head on, CareVision aims to assist care organisations create a culture of trust with their clear and high-quality approach to in-home care software systems.
For example, CareVision makes it easier and more convenient for care organisations to manage accounts; Simply export invoices from the Management Portal and import them into your chosen financial system (i.e. Xero, Epicor, or Keypay). CareVision's Management Portal also enables complete transparency of rates by display of key factors such as staff member check-in and check-out times plus total kilometres travelled by staff to arrive at their appointment.
The CareVision platform offers a visual smart scheduling solution, to help your team deliver billable care hours, reduce travel cost wastage, and handle last-minute changes with ease. Having a more effective scheduling system for your aged care or home care business is just one of the key growth areas that all organisations should consider.
Here are more ways you can provide financial transparency and clarity of your home care packages:
Timesheets are validated against GPS attendance and scheduled events.
Easy and robust adjustment of all billing categories.
Visualise validation of timesheets and events to speed up reviews and commit processes.
Guarantee transparency and accurate billing to improve client retention.
Client statements are driven by real operational data.
Easily manage and plan rates based on time, distance, and event-driven.
Customise rates for client groups, or individual care plans with reporting.
Use standard exports, or customise billing and payroll exports.
Learn about CareVision's Home Care Software and Chat with our CareVision Active Care Growth team at www.carevision.com today!