Recessed Access Covers with Stainless Steel Edge from ACO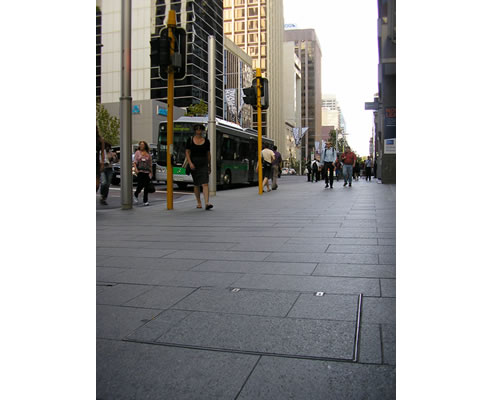 St Georges Terrace Streetscape
St Georges Terrace is the main street of Perth's CBD. The City of Perth Council has a long running program to upgrade its footpath pavements without impacting on the famous bronze tablets which commemorate WA's notable figures in history.
Cable pits enclosing a multitude of services were installed below the busy CBD thoroughfare.
Designers specified ACO's Rhinocast® ductile iron cover and frame systems with 40mm stainless steel decorative edging. This ensured the full depth of paver could be bedded, without modification, into each recessed cover thereby allowing visual continuity over all manhole utilities.
Product Details
Specifier: City of Perth
Product featured: Rhinocast® access covers with stainless steel decorative edge
Other ACO products used in this project: Rhinocast® multipart access covers