Access Hatches for High Traffic Areas from EJ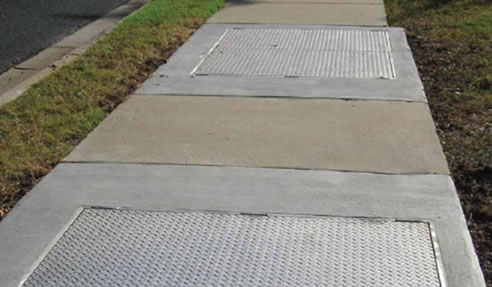 Access hatches for high traffic areas provide easy access to underground infrastructure services such as; sewer pump stations, gas valve vaults, water valve vaults, water meter pits, telephone and electric vaults, ventilation shafts, industrial pits, fuel storage pits, de-icing control facilities, storm drains, de-icing control facilities, collection pits and monitoring wells.
Due of their technological advances and innovation, EJ continue to provide the highest quality products for the building industry - making them one of the leading providers of access solutions such as manhole covers and risers, tree grates, detectable warning plates, and much more.
EJ also have their own line of access hatches for high traffic areas. These hatches are strategically designed to easily and securely access below below ground installations.
What are Access Hatches by EJ Made of?
EJ has a wide range of access hatches that are made available in the following materials: aluminium and ductile iron.
Aluminium
The durable aluminium access hatch by EJ comes with the following features and options: a stainless steel hinge, aluminium plate treated with safety sure grip, regular or non-treated aluminium plate, a lift handle and a slam lock with an optional T-handle or a slam lock with plug. Aside from that, security options include a penetrated plug and post key, exposed padlock, recessed padlock clip in closed or open position.