Light Rail Electrical Network Covers from EJ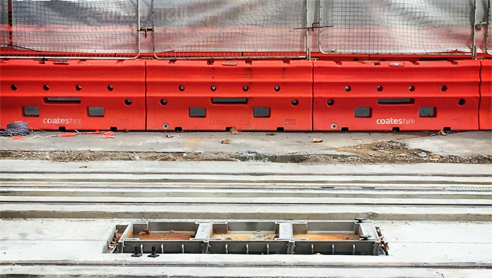 Exposé: Sydney Light Rail Gets the Heavy Duty EJ Cover-Up
One of the key components of any light rail system - any rail system for that matter - is the necessity for a complex electrical network. With Sydney well and truly in the upheaval of an extension of the existing light rail network into the George Street/Circular Quay precinct, precision solutions to every aspect of construction is a must.
Which is why EJ has been commandeered for electrical network covers throughout the entire project. The choice made by the contractors was a wise one: quality, heavy duty, easy access covers and of course, ERMATIC™ covers from EJ ticked all of these boxes.
The spec was for paver infill 3-part covers and frames (Class D) with a deep pan to allow the standard Sydney Greystone pavers to slot into the cover with a minimum of stone masonry expense. The ERMATIC™ covers were cast in the Picardie Foundry in France and assembled to the desired 3-part configuration prior to shipping direct into Sydney.