Pedestrian Friendly Grates and Covers from EJ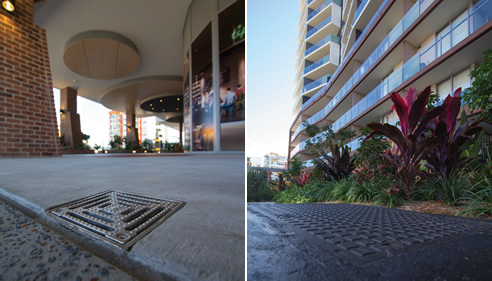 EJ Access Covers, Pits and Grates The New Lifestyle Choice
More and more, contractors and builders are specifying complete suites of EJ access covers and grates for use in and around apartment projects. Near Brisbane-city West End is burgeoning with a myriad of developments that feature not only apartment living, but complete lifestyle ventures complete with pools, gardens, gyms and even retail precincts.
The array of EJ product in such developments is vast with everything from stainless steel, non-slip drainage grates to cast iron and ductile iron electrical, sewer and stormwater covers featuring throughout. A wander through developers' Stockwell and Pradella projects in this suburb sees a wide selection of product molded with that familiar EJ insignia.
Not only do products from EJ provide practical solutions to infrastructure needs, they are also designed with an architect's eye and delivered to site with pristine, presentable finishes. The actual installation process for all EJ products is also well thought out, with easy to follow instructions. Installer and operator safety are always major design considerations.
EJ is your one-stop shop for all access covers, pits and grates in cast iron, ductile iron, galvanised steel, stainless steel, composites and infill capable. And most popular covers and grates are available on request, ready for delivery from our stock yards across Australia.
For a complete inventory of EJ product, call your nearest branch or headquarters on 07 3216 5000 and we'll send you our comprehensive catalogue.