Ermatic™ Aesthetic Modular Paver Infill by EJ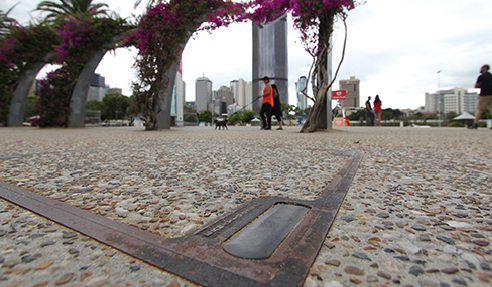 For Aesthetics, the Automatic Choice for Manhole Covers is Ermatic™ by EJ
One of the most aesthetically pleasing and efficient covers around is the Ermatic™ Modular paver infill by EJ. It's the ingenious solution to almost every application that needs easy access to underground services of any type.
Its modular system can be customised to fit any below-surface vault dimension or cover configuration. With a fully tested Class D load rating, to AS3996, these covers will stand the test of time under the duress of pedestrians, cars, trucks, service and emergency vehicles.
Cast in robust ductile iron in our French foundry, they're fully water resistant being highly machined, which also makes them completely stable; no rocking, no noise. The deep pan cover allows enormous flexibility in the choice of infill with bricks, pavers or exposed aggregate concrete. You can even specify a solid lid with our patented 4L non-slip pattern, or a removable inner hatch/cover.
An ergonomic key opens Ermatic™, and we can also fit them up with hinges and gas or spring-loaded, strut-assisted lifting. For added safety, add safety grates or railings which would be especially advisable when Ermatic™ covers sewerage or sludge chambers. Obviously, Ermatic™ is ideal for telecommunications, electrical and lighting chambers; transformer pits, cable joint boxes and more.
As you read more about Ermatic™, you can start to imagine the suitable applications for this genius cover. Everything from airports and ports to railways, vehicular tunnels, power stations, water treatment and manufacturing plants not to mention exhibition and convention centres, leisure parks, stadiums and a gamut of others.
Ermatic™ is one of those covers that makes us globally famous for its innovative design, quality of manufacture and outstanding performance. Your automatic reaction should be to contact EJ now. Visit www.ejco.com.