Brass Edged Access Covers at Sydney Opera House from EJ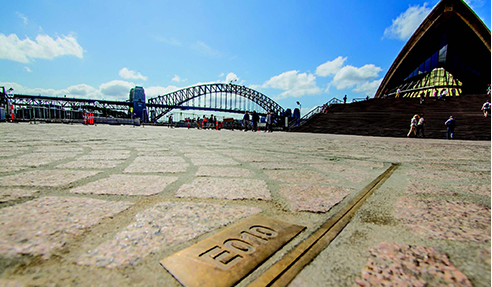 EJ Brass Section Paves the Way For a Top Asia Pacific Performace
Just about everywhere pedestrians, prams and strollers, cyclists, Segways, skateboards, roller blades and motor vehicles venture, we can reveal that EJ has played a major role in providing smart, stylish and functional infill access covers for councils, developers and the construction industry at large. This has been going on for the past 135 years in other countries of the world. And in the Asia Pacific, since 1985.
We're talking about access covers that perfectly blend into their surrounds but still, offer total functionality when it comes to gaining access to infrastructure hidden beneath. These covers are cast in long-lasting ductile iron, are gas, air and water-tight, are load rated to Class B (80kN) to D (210kN), which makes them ideal just about anywhere there's normal, everyday town and city traffic.
They're designed to accommodate paver, concrete or bitumen infills so the aesthetics of open spaces aren't interrupted by standard, solid covers. Which is why this style is ideal for use in shopping malls and centres, resorts, walkways, and anywhere people and light traffic traverse.
Steel and brass-edged infill covers are also available and are customised in our Brisbane factory in any clear opening size and configuration that's required - single, double or multi-part.
At EJ, we feel we are justified in blowing our trumpet about our covers. From Sydney to Suva, we can orchestrate the best value for your project. Get in touch with your local EJ branch or visit www.ejco.com.