High Quality Ductile Iron Grates from EJ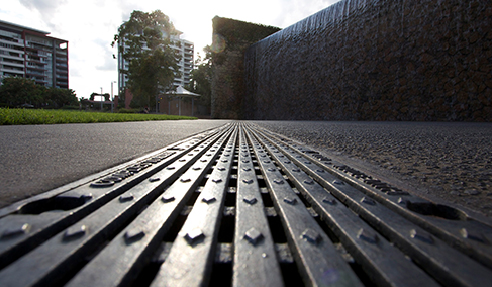 The World's Grate Hits by EJ
For 135 years, EJ has offered a world of the very best in grates, the essentials for life-long quality construction whether its civil works, an infrastructure of any kind for airports and ports, rail systems, shopping centres, malls, hospitals, education facilities, sports stadiums, office towers and apartments, whole townships, city centres - you get the picture. Anywhere there's pavement, rooftops, boulevards, highways and byways, EJ grates top the charts.
The EJ album of grates is extensive, with grates made from the highest quality available raw materials in foundries in all corners of the EJ world, France, Germany and the US. Example: our ductile iron grates are rated from B (80kN) up to G (900kN) Class loadings in sump grate and trench grate designs.
Trench grates come in transverse and longitudinal configurations as well as our HEELPROOF™ version. Our ductile iron sump grates provide highly efficient water drainage and are safe and cycle wheel proof. Then there's our specialist self-locking V-grate with a split, hinged grate for easy access.
In galvanized mild steel (GMS) and stainless steel (SS) grates and frames, EJ's inventory are vast. Cycle safe GMS sump grates are hinged and bolt down. GMS trench grates and frames are built with transverse load bars and are bolt-down grates for safety and security. The range also includes skid-proof Sump Grates & Frames and Trench Grates & Frames. Not only are they HEELPROOF™, but they're also skid proof, finished in a coating of hard wearing, coarse-grained paint in a selection of colours.
Grades 304 and 316 stainless steel grates can be supplied in either sump or trench configurations. These smart-designed grates feature a very narrow 3mm aperture that even stilettos won't jam in.
For road gully grates no one beats our variety in galvanized mild steel and ductile iron. Designs include drainway and side entry pit covers. We also carry a range of Iguazu ductile iron gully grates and lintels (Class D), side entry Tempo and TempoPlus (Class D) and the HYRDOSTREAM ductile iron casting.
For information about EJ grates, access covers and other infrastructure products, contact your nearest EJ team or visit www.ejco.com.