Manhole Covers as Street Art by EJ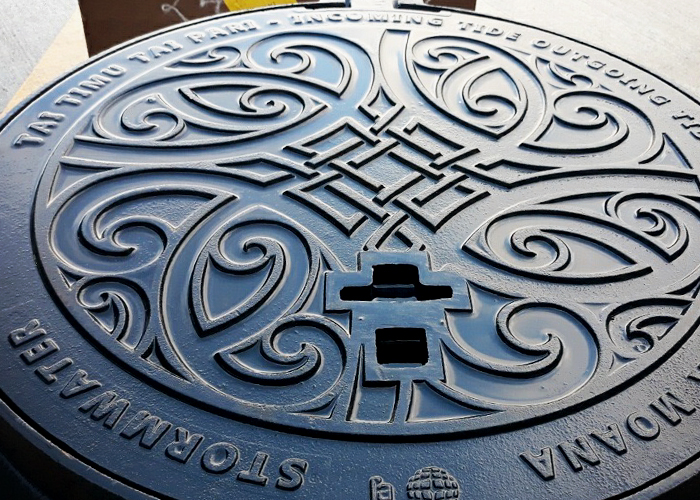 NZ Street Art
Bringing history & culture to urban streets
Manhole covers are durable, long lasting, and sit silently in our city streets to protect vital underground networks. Generally the castings are of utilitarian design but they can become an object of street art bringing cultural meaning and stories to the urban environment.
In New Zealand, the Tauranga City Council was interested in upgrading their manhole covers and explored the options available with Josh Farrant of Hygrade Water NZ, the EJ partner throughout New Zealand. The city engineers, having seen artwork EJ had cast for Wellington City Council, decided to go ahead with their own locally inspired artwork for the streets. A local design competition was launched and the result has been the creation of Maori artwork to tell a cultural story of the local area and the people.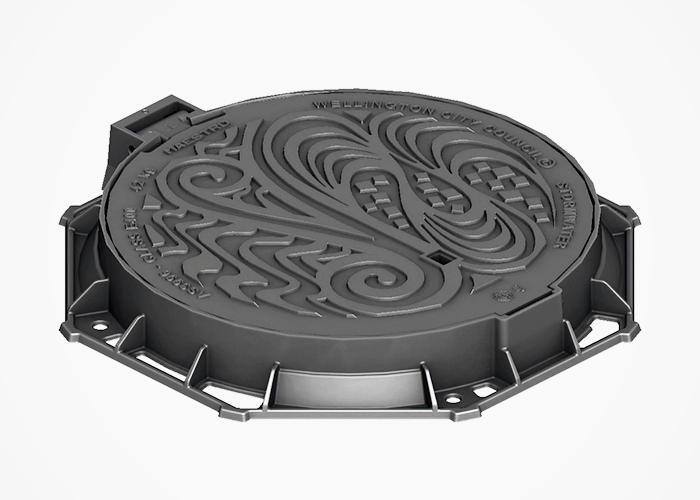 Maori artist and traditional wood carver, Whare Joseph Thompson, created the winning design which he titled 'Tai Timu, Tai Pari'. This translates to 'Incoming and Outgoing Tide' and it symbolises the powerful connection between the 'mana whenua', the indigenous Maori people to the Tauranga 'Moana', the local seas, harbour, and waterways of the region.
The design also depicts 'Nga Hau e Wha' which translates as 'The Four Winds' and the coming together of people from the four corners of the world. This is represented by the four kowhai-ngutukaka (traditional Maori pattern designs) which consist of three koru (a Maori spiral shape based on the appearance of a new unfurling silver fern frond) representing the past, present, and future.
Interlinked with this kowhaiwhai pattern is a Celtic design which acknowledges the early settler history of Tauranga.

Once the design was approved, the EJ foundry in France converted the design onto a CNC machined aluminium pattern. This pattern is then sent to the foundry high speed molding line for making impressions into the casting sand. Hot molten iron is poured into the sand mold and the casting is allowed to cool before being shot blast, fettled, painted, and assembled into the finished product.
The product also undergoes stringent load testing, material testing, and our unique EJ live onroad testing; with the assistance of the local Picardie council in France.
EJ has a long history of casting decorative manhole covers to foster civic pride throughout the USA, France, and many other European countries. In the Asia Pacific region, NZ has been at the forefront of this badged cover design with Wellington, Nelson, and now Tauranga taking manhole cover artwork to the streets. In Australia, EJ has also produced badged covers for Wingecarribee Shire Council in regional NSW.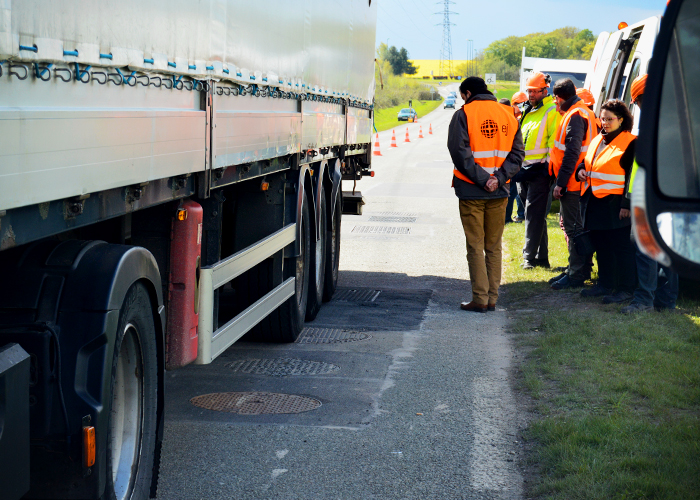 We thank artist Whare Joseph Thompson for sharing his traditional design talents and the wonderful story that brings together the local Maori people and the early European settlers. Look down to find this story on the streets and roads of New Zealand.
Upgrade your infrastructure with EJ.