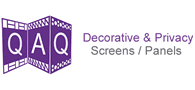 Company Profile
Decorative screens add privacy, shade, interest and beauty to the interior and exterior of buildings, and are becoming increasingly popular as a method of Home Improvement. Whether it be professional landscape, DIY house improvement, interior design or architectural and commercial building, QAQ Screens and panels provide visual drama and decorative style. They also provide a practical solution in partitioning open spaces, creating a simple sun shade, or providing much needed privacy; the creative possibilities are only limited by one's imagination.

QAQ Decorative & Privacy Screens/Panels is Australia's largest manufacturer of decorative screens and panels, utilising 9 Standard materials: Australian Compressed Hardwood from the Weathertex® Brand, Medium Density Fibreboard better known as MDF, Plywood, Cor-Ten® (Rusting Steel), Mild Steel, Aluminium, Aluminium Composite Panel, Acrylic and the genuine Perspex®/Plexiglas®/Euromir® Brand and Integral PVC. Available in 9 standard sizes and over 60 different designs, QAQ can provide a cost-effective and efficient screening solution. In addition to the standard screen designs and sizes, QAQ can also provide custom screens and panels based on specific sizing requirements and individual designs. QAQ has also been featured on hit television shows such as "House Rules" and "The Block".

Services also include:

• Laser Cutting / Engraving machines - computer controlled precision & intricate cutting machine.
• 3-D CNC routing machine - computer designed & numeric controlled cutting machine that creates objects from wood for composites, plastics, foams.

Based in Melbourne, we are a wholesale manufacturer with a vast, national distribution network. We distribute to both large chain and boutique businesses, and cater to the needs of their markets with either standard or exclusive designs as required; "A Screen for every space and every place".

QAQ Architectural
03 8390 0306
84 Hunter Rd, Derrimut, VIC, 3030
* If you would like to update the text on your profile page, please contact Spec-Net.