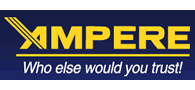 Company Profile
Ampere manufactures and/or sells a wide range of electrical accessories. These electrical accessories are mainly targeted at the electrician seeking electrical fittings chosen for Australian conditions.

Wholly Australian owned and making quality electrical accessories since 1947, Ampere electrical contractor supplies are available from the majority of electrical wholesaler outlets in Australia. Ampere distributes electrical contractor supplies in each Australian state or territory through a network of their own warehouses or through selected agents.

In addition to the range of electrical products for the electrical contractor Ampere have a range of products designed to supply Original Equipment Manufacturers especially lighting manufacturers. Lighting equipment manufactures or other OEM's are invited to contact Ampere HO or electrical sales rep in their area for further information about electrical accessories designed specifically for their industries.

Electricians when calling at their wholesalers should specify Ampere electrical contractor supplies for great value products made/distributed by a wholly owned Australian company with a reputation for quality and value.
Ampere
1800 267 373
Prahran,VIC, 3181
* If you would like to update the text on your profile page, please contact Spec-Net.