Ampere electrical products and lighting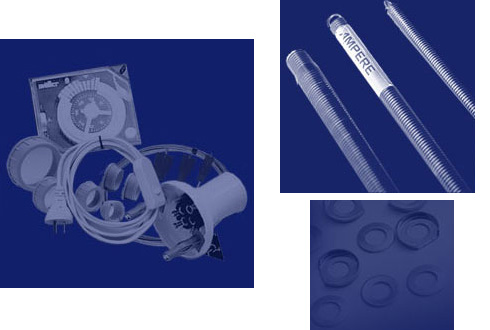 Ampere manufactures and/or sells a wide range of electrical accessories including lighting products, cable holding and protection products, connectors, conduit holding, installation tools, and much more.
These electrical accessories are mainly targeted at the electrician seeking electrical fittings chosen for Australian conditions.
The electrical accessory range covers products such as:
Lighting related products that include batten holders and lamp holders.
Cable holding and protection products that include plastic conduit bushes and stops and nylon cable glands.
Connectors including strip connectors, single screw connectors and double screw connectors.
Cable and conduit securing products including Quiklip™ plastic cable clips and "Suregrip" metal half saddles.
Installation tools and accessories including jack chain and pull through springs.
Petzl head torches including the Tikkina and the Tikka XP.
Hollow wall fasteners including Anka plugs and Wall loks.
Self-drilling screws in a variety of packs and sizes.
Solid wall fasteners including nail in plugs and masonry anchors.
Conduit plastic fittings including junction boxes and couplings.
PVC Insulation Tape, Duct Tape and Self Fusing Tapes.
P&N cutting tools, drills, holesaws, spade bits and auger bits.
Safety equipment including safety spectacles.
In addition to the range of electrical products for the electrical contractor Ampere have a range of products designed to supply Original Equipment Manufacturers especially lighting manufacturers. Lighting equipment manufactures or other OEM's are invited to contact either