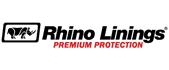 Company Profile
Rhino Linings Flooring division offers a range of proven coating solutions for residential, commercial and industrial flooring applications. Rhino Linings Flooring specialise in epoxy, epoxy flake, polyaspartic, polyurethane and crack repair resin systems as well as Rhino Concrete Solutions, a decorative flooring system that consists of metallic epoxies (metal fusion), acid stain, spray-top and other cement polymer based overlay systems. Rhino Linings Flooring meet the AS:NZ standards and can conform to any resin flooring specification.

Rhino Linings Flooring products protect your flooring investment and enhances it by offering the highest quality floor coating systems available to the market. Rhino Linings Flooring is committed to deliver nothing but the very best solution, and our experienced team offer technical support to specifiers, architects, designers, builders and work directly with qualified flooring contractors to ensure the best result is achieved. You can rely on Rhino Linings.
Rhino Linings Australasia Pty Ltd
07 5585 7000
39 Activity Crescent, Molendinar, QLD, 4214
* If you would like to update the text on your profile page, please contact Spec-Net.