Commercial Wet Area Flooring Options from Rhino Linings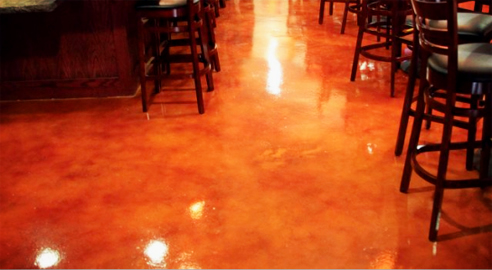 If you are looking at commercial flooring options for your restaurant kitchen, bar, or wet area, have you thought about the features and benefits you require for this area? Do you want a seamless, impervious flooring system that exhibits slip resistant qualities? Does it need to be flexible to withstand substrate and wall movement? Is easy to clean and highly durable? If that is the case, and you are looking at epoxy, polyaspartic or polyurethane commercial flooring options, you will find that primarily the most critical aspect of any successful flooring application is the correct preparation of the concrete substrate.
Correct Flooring Preparation is Key!
The flooring surface should be prepared first with a diamond concrete grinder. The surface needs to be grinded back to a depth sufficient enough to remove the contaminated top layers and to expose clean concrete. A high-pressure water cleaner should then be used to clean the surface.
All food fats and fatty acids MUST be removed from the substrate prior to any application as these floor areas are likely to have oils, grease, and cleaning chemicals bedded within the surface layers. Areas that attract heavy staining such as floors under stoves and cook tops will require additional attention. It is important to note that floors exposed to food fats from cooking and food preparation require a three-step cleaning process to:
Remove fats from the surface of the floor.
Dissolve calcium deposits which lock in fat.
Neutralise any residual acids and alkalis.