Ventilation Louvres for Warehouse Aeration from Louvreclad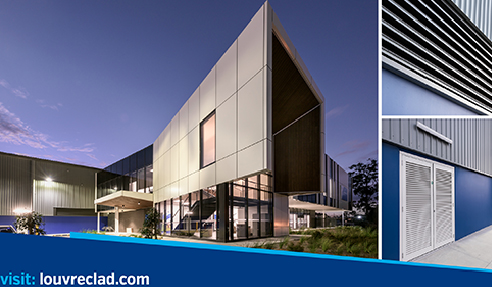 Together with De Luca, Louvreclad designed and engineered, supplied and installed the Delta & Varsity Series® ventilation louvres for warehouse aeration of the new Oji Fibre Solutions (OjiFS) packaging plant. One of Australasia's leading pulp, paper and cardboard packaging manufacturers who are currently expanding their operations into Queensland with the purchase of a 24,126 sqm facility in Frasers Property Australia's Yatala Central.
Louvreclad Delta® and Varsity Series® roll-formed steel ventilation louvres, are a first-rate solution for warehouse aeration to achieve the following:
Natural ventilation throughout the warehouse
Correct introduction of ambient air
Assist in achieving desired indoor comfort levels
Dilute and displace indoor pollutants
Louvreclad's Delta Series® is a high-strength roll formed perforated steel louvre that provides high security while allowing good ventilation. The blades are designed to lock together to make a virtually impenetrable wall. A traditional louvre profile roll-formed from steel, The Varsity Series® Standard louvre is an excellent screening solution where maximum airflow is a priority.
Louvreclad's roll-formed steel range of louvres include Delta, Varsity and Venus Series and are available in any pre-finished Colorbond steel finish providing a cost-effective ventilation and screening solution for all commercial and industrial buildings.
Get to know more about Louvreclad fixed ventilation louvres for warehouse aeration by visiting www.louvreclad.com.