Recycled Rubber Flooring for Fitness Facilities from Safety Floorings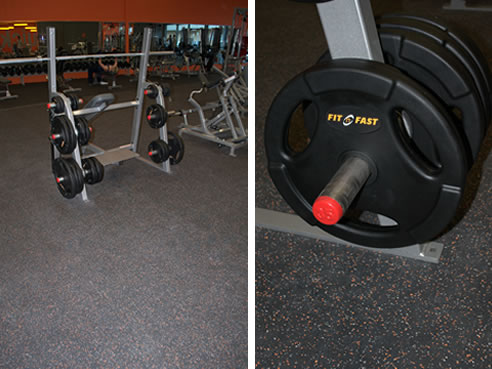 Custom Made Fitness Flooring
Fit n Fast, Australia's newest concept in fitness training have chosen to install A1 Rubber flooring throughout its fitness facilities Australia wide.
To date, State of the art Fit n Fast gyms are operating at Penrith, Liverpool and Charlestown in NSW. Paddington and Harbour Town in Qld and work is well underway on gyms in both South Yarra in Melbourne and Belconnen in the ACT.
A1 Rubber was able to custom manufacture a black with orange and grey flecked product to match Fit n Fasts corporate colour scheme. The result is amazing. The gyms are vibrant and colourful whilst providing a safe and comfortable environment for their clients. 15mm thick tiles are used in the free weights areas and 5mm thick sheet rubber flooring is utilised throughout the remainder of the general purpose areas. All products are Australian Made and are manufactured from recycled materials to produce long lasting, safe and attractive surfaces.
For further information on fitness flooring options for your gym contact Safety Floorings on 02 9987 1777.