Tactile Indicators by Comcork from Safety Floorings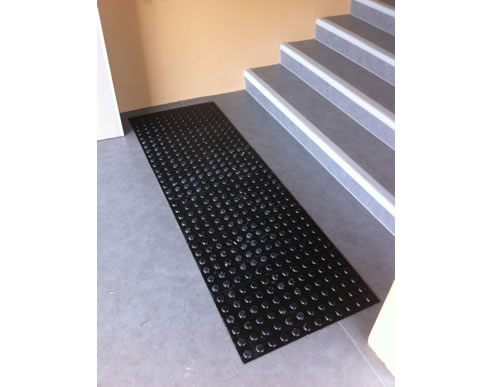 Comcork Tactiles chosen for major Newcastle Facility
Newcastle City Council has almost completed the 7 million dollar upgrade to Number 2 Sportsground in Newcastle. Being a high profile inner city social, cultural, and sporting facility, finishes for the project needed to be of the highest quality to ensure this asset stood the test of time.
Thats why Australian Made Comcork Tactiles were chosen by EJE architects as the preferred Tactile Indicator for the project. Safety Floorings supplied and installed the tactiles to the main concourse area using their new 'Place and Press' butyl backed tactile mats. These are a unique matrix of rubber and cork and are regarded as the best available on the market.
Tactiles are available in a 600 x 300 mat, and come in 6 different colours to allow for the required 30% luminance contrast to conform with AS1428.4 and AS/NZS1428.1. The tactiles achieve an R11 slip rating and are suitable for internal and external applications.
Comcork 'Place and Press' tactiles can be easily installed directly onto and over existing surfaces, including concrete, bitumen, aluminium, steel and compressed sheet. Comcork Tactiles are highly durable and able to withstand heavy pedestrian traffic in demanding conditions because of Comcorks ability to absorb force at the point of contact. Comcork Tactiles will not chip, fracture or crack with substrate movement and are able to follow the ground surface contours and gradients when installed.
For more information regarding our Tactile range please contact
Safety Floorings 02 9987 1777