Wall Mounted Instant Boiling Water System from Zip Water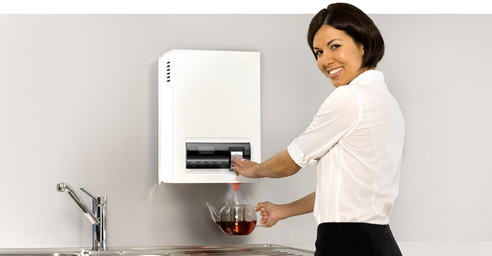 Instant hot water + instant energy savings with the Zip Hydroboil!
Enjoy lower energy costs thanks to energy efficient design and electronic controls minimizing energy consumption.
No more waiting for water to boil. Zip Hydroboil gives boiling filtered water instantly, for tea, coffee and cooking.
Boiling water instantly.
No more time wasted waiting for water to boil. Zip Hydroboil makes your kitchen so efficient!
You have boiling filtered water always on tap, for tea, coffee, soup and all cooking.
Reduces energy costs.
Electronic Power-Pulse™ power control maintains boiling water temperature precisely, within 0.2°C and, with the inbuilt 24/7 on/off timing system, can reduce operating power costs by up to 55%.
Easier and safer to use.
Far simpler to use than earlier instant boiling water systems, Zip Hydroboil also has a cool touch tap, and a handy safety lock to eliminate the risk of accidental use.
Every drop is filtered.
New 0.2 micron Zip GlobalPlus™ filtration filters out bitter-tasting chlorine and impurities as tiny as 1/5000 of a millimetre, for better tasting (and healthier) tea and coffee