Foodservice Shelving Melbourne from CRH Australia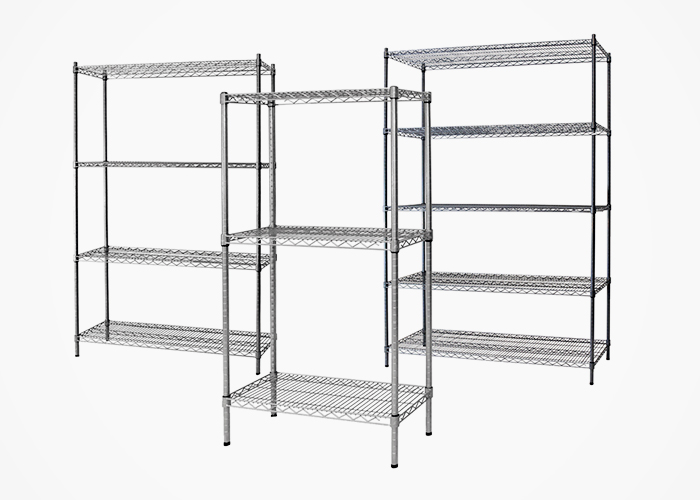 Shelving from CRH Australia is the perfect choice for quality, strength, and hygiene in the foodservice industry. Constructed from zinc plated steel, the finish is an epoxy powder coating with anti-microbial protection or stainless steel. The result is a clean gloss finish with excellent protection against rust and corrosion, making them ideal for drystore, cool room or freezer room applications.
Anti-microbial protection is a permanent treatment during the manufacturing process to ease cleaning and inhibit bacterial growth. Additional features include;
A load rating of 350kg per shelf (spread evenly across the shelf). Easily assembled and shelves are adjustable in 25mm increments.
Anti-microbial protection again micro-organism such as bacteria, mould, and algae.
5 year warranty against rust and corrosion. Strong wire shelves allow for excellent air circulation and visibility.
Adjustable feet for stability on uneven floor surfaces.
Powder epoxy coating finish allows for easy cleaning.
Optional caster set (2 braked and 2 un-braked) for easy mobility.
NSF approved.

Technical Specifications
Colours - Silver grey or stainless steel.
Materials - Zinc plated with epoxy powder coat or stainless steel.
Post heights - 1370mm, 1900mm, and 2185mm.
Shelf depths - 355mm, 457mm, and 610mm.
Shelf widths - 603mm, 755mm, 908mm, 1060mm, 1213mm, 1365mm, 1518mm, and 1822mm.
Of course, if you're unsure about what's going to be the best for you, drop us a line and we're more than happy to help you out. Contact us today!