Threadless metal conduits by GV Kinsman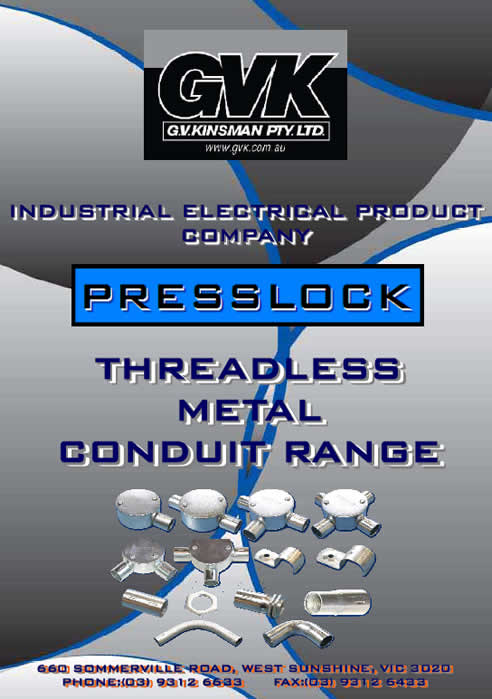 Save time, money & increase profits with Presslock's conduit fittings - a unique product designed by electricians for electricians. Clients will be impressed by a mechanically protected quality installation using presslock conduit fittings. Tested and approved by Australian Standards Authority, conforms to AUS/NZ 2053.7:2002 (approval no# A/10278EA) "Conduits and Fittings for Electrical Installations & Rigid Metal Conduit Fittings" compatible with screwed steel and pvc conduit using specially designed fittings Presslock products are rated at ip 65 against.
External influences.
Ingress of water.
Ingress of solid forign objects.
Corrosive and polluting substances.
Solar radiation.
Resistance to water.
For use in multiple applications;
Electrical installation 240v/415v.
Internal & external use.
Fiber, security & data installations.
Industrial, commercial, domestic.
Heavy industrial - refineries, mining, mills, smelters, port authorities, transport, defence.
Plant rooms.
Schools.
Hospitals.
Stairwells.
Silo's.
Elevator shafts.