Commercial Remedial Waterproofing Materials from Bayset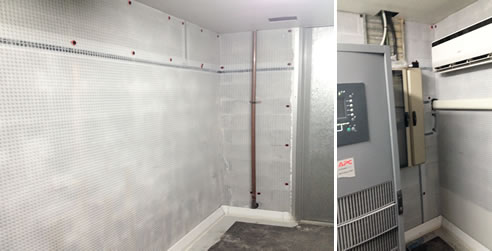 Varsity Lakes, Gold Coast, Queensland
Renovating an aged care facility
This four-level aged care facility had a partial basement and suffered extensive water ingress issues throughout, in particular the room which housed the battery backup system. This system needed to remain fully operational throughout the works.
Project Description
The premium quality aged care facility spreads across 4 levels accommodates over 110 tenants.
The partial basement/ground level houses all reception, office, car parking, laundry, kitchen, electrical and water storage services. Whilst the building is quite new, it has had many water ingress issues throughout, but in particular was the ingress into the room which houses the UPS (backup battery system) which keeps all critical medical equipment operational during power failures.
Water was leaking in through a failed waterproofing membrane on the external subgrade wall, and in heavy rain periods could cause up to 20mm of ponding water on the floor where many of the high voltage power cables were located introducing a serious electrocution and system failure risk.
Methodology & Result
Newton 500 was specified because there was no access to the external walls to re-waterproof, and the client wished to have the most reliable long-term solution available. Health and Safety protocols and also required the UPS system to remain fully operational throughout works. The works could not introduce any additional risks to the equipment (i.e. dust or moisture) that would occur with the installation of an alternate liquid applied or render coating.