Construction Information Day - August 2018 with Bayset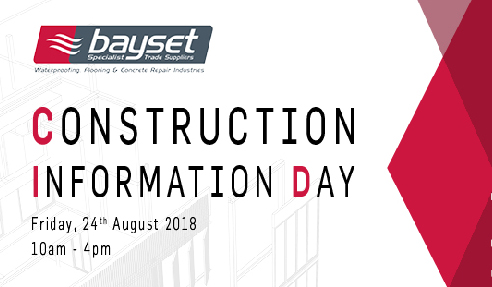 Bayset's 8th bi-annual Construction Information Day will be held on Friday, 24th August 2018 at our Coopers Plains Branch.
What's On
Check out the latest systems and solutions for the waterproofing, flooring, concrete repair and sealing & bonding industries from 26 Australian and Multinational suppliers
Live product demonstrations & training seminars running throughout the day
Complimentary food and drinks all day
Be in the Draw to Win
MAPEI: Vintec 30 Bottle Wine Fridge
CTA: Evolve Bamboo GTX Series Skateboard valued at $2,000
RLA: Stand Up Paddle Board
HYCHEM: BCF Gift Card Values at $1000
ADMIL: Drive the quickest lap on V8 Supercars Race and win a Waeco CF-50 Fridge from Admil
Plus stacks more Door Prizes to be won
Register to attend at your local Bayset Branch.
Additional Information
Programme
10.00am - Breakfast / Brunch
10.45am - Seminar: QBCC: Non-Conforming Building Products
12.00pm - Seminar: The importance of identifying & preparing substrates. "Understanding CSP's" (Concrete Surface Profiles)
12.30pm - Lunch
2.00pm - Prize Draws
4.00pm - Finish
Demonstrations
MAPEI: The building products technical team will be onsite demonstrating the latest concrete restoration and repair products in our new training rooms.
SOPREMA: Soprema's waterproofing specialists will be on hand to demonstrate the latest PVC sheet membrane systems and their rapid return to service waterproofing systems.
Industry Associations:
AIW: Australian Institute of Waterproofing, the waterproofing industry's official waterproofing body.
QBCC: The QBCC will be on hand to answer all your questions.
Mates in Construction: MATES in Construction is a charity established in 2008 to reduce the high level of suicide among Australian construction workers.
Building Industry Training: With over 20 years' experience in training within the construction industry, building industry training has experience over a wide variety of construction methods and trades.
Construction Skills Queensland (CSQ): An independent industry-funded body supporting employers, workers, apprentices and career seekers in the building and construction industry.