Tech-Dry masonry pavers to complete your landscaping design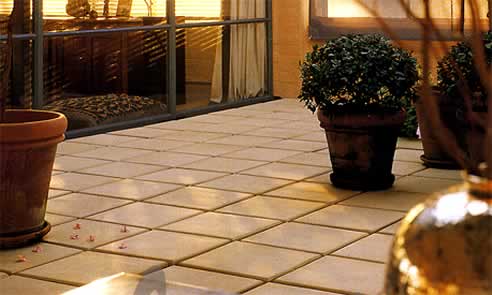 Complete your landscaping design with pre-sealed, colour-fast Tech-Dry masonry pavers. Tech-Dry Pavers incorporates innovative pre-sealing technology into the manufacturing process. This nanotechnology helps the pavers remain pristine, free of biological growth or salt damage for life. This means that by specifying Tech-Dry Masonry you gain the following advantages:
Appearances close to natural stone can be produced.
Colour-fast surfaces.
Resistance to long-term efflorescence with surfaces remaining pristine.
Resistance to biological growth due to the masonry remaining dry.
Elimination of rising damp through the paver.
Elimination of erosion damage due to the effects of salt from sea spray or salt-chlorinated pools.
Surfaces exhibit a clean, rather than oily appearance, which can be caused by oil-based admixtures.
Surfaces retain their matt, non slippery surface as no surface sealer needs to be applied.
Please visit our website for details on suppliers for this product at www.techdry.com.au.
Tech-Dry Masonry meets the requirements of the Building Code of Australia and A-S 3700 Masonry Code as approved by the CSIRO Test Report (ABSAC) of Tech-Dry Block Wall System according to ASTM E514-90 'Standard Test Method for Water Penetration and Leakage through Masonry'.