Tactile Indicators for SJOG Bendigo Hospital Project from DTAC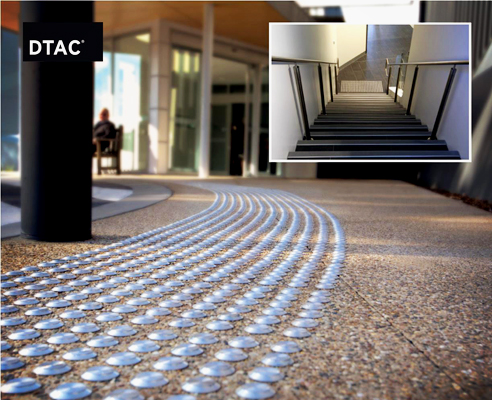 When it comes to the design, supply and installation of tactile indicators, stair treads and edging, DTAC Pty Ltd is a world leading innovator and has been the trusted name in the industry for almost 15 years with growing markets nationally and internationally. The company pioneered the architectural floor tactile industry in Australia, taking a utilitarian product and transforming it into a feature that compliments the structure.
As a member of the Raven Group, DTAC's specialist team of professionals design and craft their own superior quality products to meet the challenges of Australia's tactile and stair tread compliance requirements. All products are crafted to DTAC design certification as well as Australian standards. The products also conform to the National Construction Code and Disability Discrimination Act (DDA) requirements. DTAC now deliver the most aesthetic NCC compliant solutions available.
"It's our technical support staff and highly trained contract installers unequalled attention to detail and their specialist knowledge that ensures architects; designers and builders can make the right choice for aesthetic and functional compliance in every project," explains DTAC Operations Manager Michael Moulding. "In addition to meeting the mandatory compliance, DTAC's products also offer visual appeal."
At St. John of God Bendigo Hospital, DTAC firstly delivered an extensive pre-tender process demonstrating the benefits of their products and to ensure compliance. This continued with ongoing communication with the builder, certifiers and other contractors from the design phase and throughout the life of the project ensuring a seamlessly delivered job.