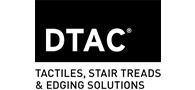 Company Profile
An Australian company with over ten years in design and product innovation excellence, DTAC is a specialised team of professionals that focus on producing superior quality products to meet the challenges of Australia's floor Tactile, Stair and Tread Edging compliance.
DTAC provides a complete service nationwide, facilitated through our trained experts and DTAC's certified tactile and edging installers.

With growing markets internationally, DTAC is a world leading innovator, our product brochures and suggested layout guides are all contained within the 'download' area of the DTAC website. They are available for DTAC product specification use subject to DTAC copyright.
Our industry leading attention to detail ensures that architects, builders, designers and specifiers make the right selection, for aesthetics and product quality while maintaining regulatory compliance.
DTAC is the trusted name in Tactile Ground surface indicators and floor and stair edging.

DTAC Pty Ltd
1300 793 478
4/11-12 Phillip Court, Port Melbourne, VIC, 3207
* If you would like to update the text on your profile page, please contact Spec-Net.