Napoleon Barbecue's to Complement Outdoor Living from Jetmaster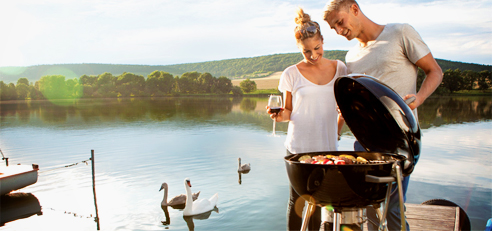 Superior technology, rock solid performance, balanced design and unparalleled customer service are the hallmark of the Napoleon name. Your Napoleon barbecue is designed to excel, offering a cooking experience as gratifying as the wonderful meals you will create. Discover the beauty and simplicity of Napoleon, the ideal complement to your outdoor living space.
Traditional charcoal barbecuing is easy with the full line of Napoleon® Charcoal Grills at your disposal.
The LEX Series, with Infrared SIZZLE ZONE™, offers three sizes of high quality stainless steel grills, a size for every need.
The Napoleon TravelQ™ PRO285 Portable Gas Grill is proof of Napoleon's commitment to innovation and performance.
Portable Gas Grill with Scissor Cart
Take gourmet grilling anywhere, on any terrain with the Napoleon TravelQ™ TQ285X Portable Gas Grill with Scissor Cart.