Concrete Repair at Queensland Coal Mine from Bayset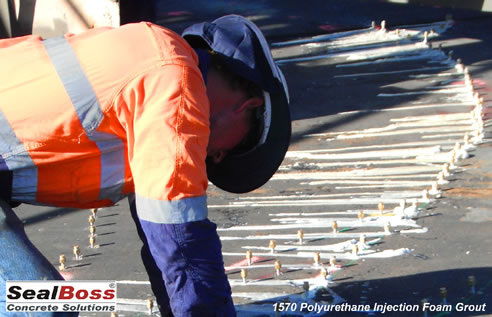 Seal Boss Case Study
Date of Completion: January, 2011
Location: Curragh Coal Mine Bowen Basin Central - Queensland, Australia
Contractor: Engineered Surface Preparation (ESP)
Supplier: Bayset Specialist Trade Supplies
Engineering Firm: Freyssinet Australia Pty Ltd
Scope: Client has to address 600m of control joint and 900m of cracked concrete in existing coal mine basin. This is a sludge tank used by the coal wash plant to clean and recycle the water.
Repair Method: ESP removes existing joint filler in order to apply SealBoss 6500 joint filler. This application involves dispensing bulk polyurea with the SealBoss JointMaster Pro2 pump. All 600m of control joint are filled with the flexible 6500 joint filler.
Concrete cracks are pressure injected with SealBoss 1570 through 13mm x 100mm buttonhead mechanical packers. Each packer is inserted into a 13mm drill hole and tightened in order to create a compression sealed fitting through which the hydrophobic polyurethane is injected. Upon contact with water, the expanding foam penetrates the cracks, leaving behind a fully penetrated, closed-cell, waterproofed seal.