Concertina Foil Insulation Batts from Solartex Insulation Solutions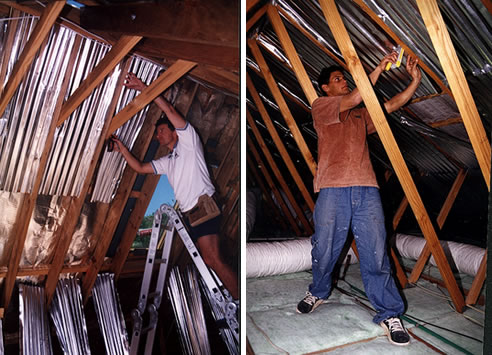 SOLARTEX FOIL BATTS UNDER UNSARKED ROOFS
Insulating against the Heat
Summer is here! Roof cavities will reach 50-60 degrees plus, with tile and metal surfaces reaching 80 degrees C. Ever wondered why your bulk insulation or air conditioner is not performing under summer heat loads?
Concertina FOIL BATTS is a revolutionary foil insulation product used for walls, floors, ceilings as well as UNSARKED tile and metal roofs. The solution to eliminating summer radiant heat as well as reducing dirt, dust and moisture into roof spaces.
FOIL BATTS are expandable and self-supporting. They suit all timber roof rafter spacings and are simply installed by stapling to the insides of the timbers starting from the ridge and overlapping by 75mm as you work down and out toward the eaves.
FOIL BATTS do not cover any roof or ceiling timbers maintaining clear access for electrical services, pest inspection and general safety whilst in the roof space.
FOIL BATTS reflects 97% of radiant heat and do not absorb, retain or conduct heat, dramatically reducing summer heat loads on existing bulk insulation and air-conditioning ductwork in roof cavities therefore making inside room temperatures more comfortable.
FOIL BATTS are a practical, cost-effective insulation solution. They are non-irritant, compact and thermally efficient. Available in 1350mm lengths and 450mm/600mm widths they come in convenient pack sizes for easy transport, storage and installation. A clever DIY insulation solution for timber frame residential applications.
For professional installation service please call the SOLARTEX team.