The Zip Hydroboil - instant boiling water heater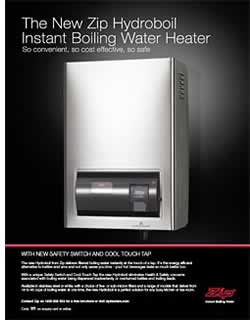 So convenient, so cost effective, so safe. With new safety switch and cool-touch tap.
The new Hydroboil from Zip delivers filtered boiling water instantly at the touch of a tap. It's the energy-efficient alternative to kettles and urns and not only save you time - your hot beverages taste so much better too.
With a unique Safety Switch and Cool-Touch Tap, the new Hydroboil eliminates health and safety concerns associated with boiling water being dispensed inadvertently or overturned kettles and trailing leads.
Available in stainless steel or white, with a choice of five or sub-micron filters and a range of models that deliver from 18 to 45 cups of boiling water at one time, the new Hydroboil is a perfect solution for any busy kitchen or tea-room.