Concertina foil batt insulation by Solartex Insulation Solutions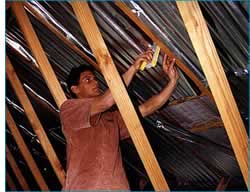 Aluminium reflective foil insulation suitable or residential timber frame walls, under sub floors, roofs & raked and cavity ceilings. Ideal for attic conversions. Concertina Foil Batts are the aluminium foil insulation radiant heat barrier for ceilings, roofs, walls and floors.
The friendly insulation alternative;
Stops 97% of radiant heat.
Saves on heating & cooling costs.
Improves home comfort levels.
Energy efficient & economical.
Non-irritant, non-toxic & non-allergenic.
Environmentally Friendly.
Ecologically sustainable.
Easy to install - best DIY insulation.