Natural Wood Composite Panel from SGI Architectural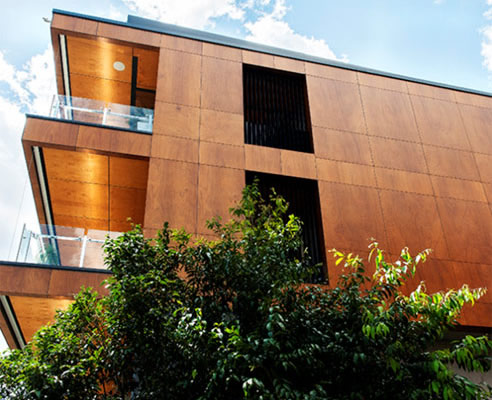 The Stockwell Riverpoint Apartments second stage was completed in June 2015. This was after a very successful first stage, which was completed in 2010, which enabled the second stage to be fast tracked due to the huge demand for the prestigious properties. Prodema plays a vital role in the exterior of both stages both as the cladding and in soffit application.
Zinc, copper and Prodema composite panel with natural wood veneer feature heavily on the external façade of the individual buildings. Whilst the zinc and copper elements were chosen for weathering properties, Prodema was chosen for it's complete opposite characteristics. Prodema provided a depth and richness of form that complimented the contrast of the zinc and copper materials. Prodema's durability and minimal maintenance features married with the precast concrete panels, which form the majority of the structure, has ensured the success of the façade now 5 years old.