Monument Timber Veneer Cladding from SGI Architectural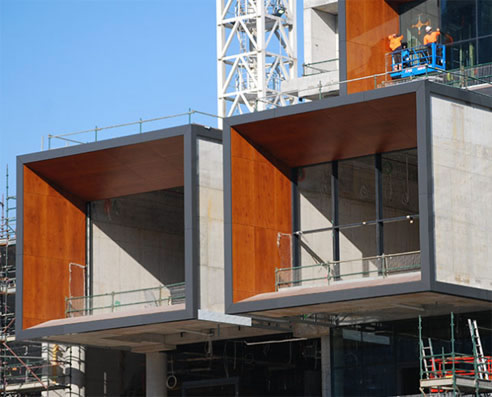 Recently Lend Lease completed the redevelopment of The International Convention, in Darling Harbour.
The joint venture between Hassell and Populous is already looking spectacular with a combination of SGI's products being used: Prodema Rustik is being used as the cladding and as a raked soffit in conjunction with Alpolic/fr being used as a border to the standout boxes.
In a marine environment such as Darling Harbour it is sensational that a 100% natural timber veneered product would not only withstand these conditions but excel and be such a highlight of a project.
Project Name - International Convention Centre
Product - Prodema, Alpolic
Colour - Prodema: Rustik, Alpolic: Monument and Woodland Grey
Architect - Hassell and Populous
Builder/Developer - LendLease
Fabricator - Foxville
Project Stage - Construction, 2015
Location - Darling Harbour, NSW