Contemporary Wood Veneer Cladding from SGI Architectural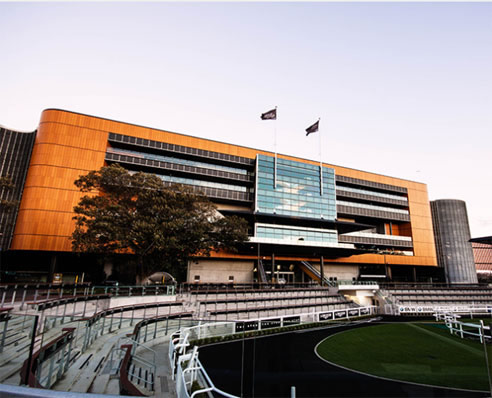 Royal Randwick Racecourse redevelopment of their Grandstand, required a façade that exuded contemporary elegance and timeless beauty yet maintained visual linkages to the surrounding heritage buildings. As specialists' in unique architectural building envelopes, SGI provided the perfect product for the projects iconic public face in the form of a 100% natural timber veneer composite panel from the Prodema ProdEx range.
ProdEx, exteriors by Prodema, combines warmth, sophistication and natural charm with guaranteed performance and durability. The eco-friendly panel is coated with a proprietary coating, based on synthetic resins and PVDF which protects the facade from the effects of sunlight, chemical attack and the damage caused by atmospheric agents.
"The cladding material for the rear elevation was an important part of the composition of this highly visible face of the building. Prodema ProdEx cladding was selected early in the design process as it had the unique characteristics of combining a natural timber aesthetic in a durable and low-maintenance product. The subtleties of the colouration and visual texture of the panels give the façade a softness which, combined with the use of other materials such as concrete, aluminium and glass, creates a warm palette of materials that have a visual depth.