External Cladding Fabrication Sydney from SGI Architectural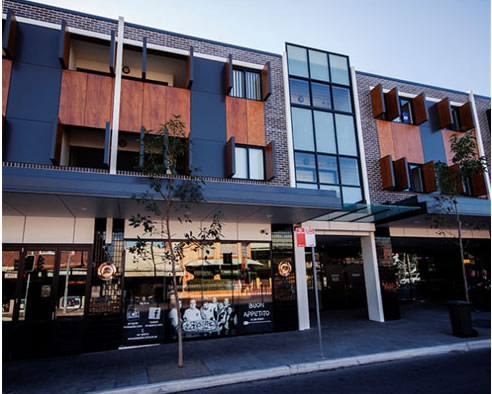 Renowned Squillace Architects, recently completed a project, which incorporated the existing Hunters Hill Hotel into the fabric of Maison. As a local landmark designed by Sydney Anchor in the modern style, great care has been taken to preserve the character of the original building. New buildings to the north and west of the hotel are separated from it by discreet link structures.
"Shev Constructions have a strong, long standing relationship with SGI Architectural, the suppliers of Alpolic F/R and Prodema. We worked collaboratively with SGI to provide a complete supply, fabrication and installation package for the external cladding at Maison Residences, Hunters Hill.
Shev Constructions clad a total of 1000m2 of Charcoal Alpolic and 300m2 of Prodema Rustic at Maison Residences. In keeping with our policy of meticulous quality control, Shev Constructions assisted with panel design enabling our company to have an input into the practical aspect of the constructions and the fitting, ensuring the client's expectations of a superior finished product were realised. Since completion, we have been awarded Stage 2, The Deux Apartments project. This demonstrates that the collaboration between SGI Architectural and Shev Constructions is a successful one and the client is more than happy to continue to use superior products for an outstanding result." - Seamus Marnell and Kevin Pigott, Directors of Shev Constructions