AC/DC Hybrid Solar Air Conditioners from Solartex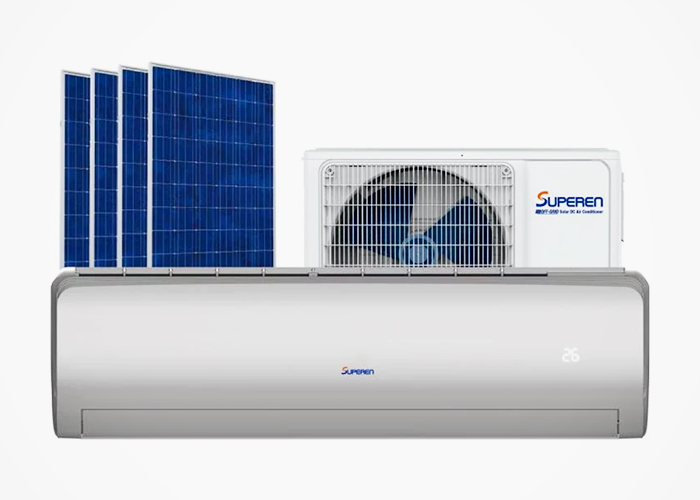 Solartex are an energy solution provider supplying AC/DC Hybrid Solar Air Conditioners, Off Grid Air Conditioners, Solar Panels, and Solar Power Systems.
Solar Powered Air Conditioner Solar Heat Pump
This Hybrid AC/DC Air Conditioner allows you to harness natural and free energy from the sun to run your solar air conditioning unit for next to nothing in energy costs while reducing emmissions.
DC Off Grid Solar Air Conditioner
The Off Grid DC48V solar air conditioner is ideal for remote and isolated "island grid" locations wherever mains power is in short supply or not available. Ideal for load limiting and where alternative electricity sources such as diesel or gas generated power exist.
Other applications include Marine, Motor Home, Site Accomodation, and Sheds. This DC48V system can use a combination of seamless solar power and battery storage as a result of the latest PVFit technology.
AC/DC Hybrid Solar Air Conditioner
Our solar air conditioners have been designed for low cost, easy installation, and fast payback. This unique solar air conditioning with latest technology and innovation requires no batteries, no inverter, no controller - just plug in the solar panels and start saving immediately. It even works without mains power!
Solar Hybrid Inverter
While Inverter Air Conditioners are more efficient than a fixed speed air conditioner, SuperEn's new Solar Hybrid Inverter takes this to a new level. The world's first true SolarHybrid air conditioner allows you to convert the suns energy through Photovoltaic panels into DC power that is fed directly into the unit. The combination of the Solar Hybrid technology coupled with variable DC compressor means you can enjoy the benefits of better temperature control, lower noise levels, plus now, increased thermal performance, and energy efficiency.
Power Saving Technology
Using SuperEn DC Power Supply Control Module the Solar Hybrid unit can use Solar DC generated power or mains AC generated power, or a combination of both irrespective of the weather, you will have uninterrupted comfort. The system will use as much solar energy being produced and the solar energy directly replaces the equivalent amount of AC power from the mains provider. Under optimum conditions, this can save up to 97% of your mains power usage.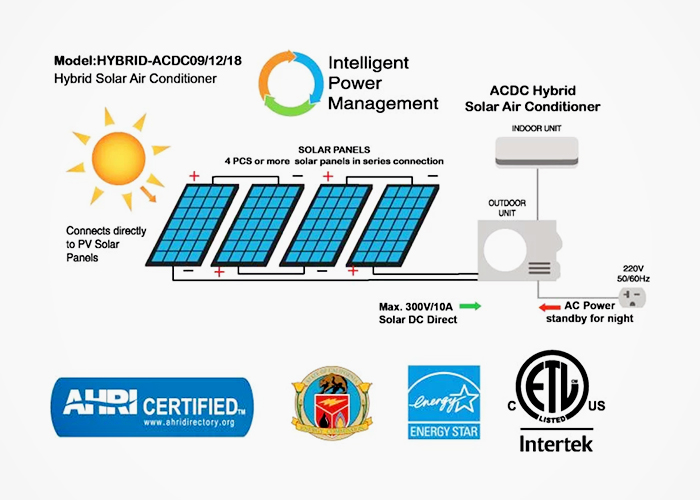 Application
Superen hybrid ACDC solar air conditioners need no batteries, and only a few PV panels to deliver huge savings. During the day, when air conditioning is needed the most, you can operate this unit partly or up to 100% by solar panels and can achieve an efficiency above SEER 35 when using >/= 300W solar panels. At night, you can continue to save due to the> SEER 21 rating.
The hybrid solar air conditioners can be connected with upto 300V/10A solar DC power. Unlike regular DC-Inverter air conditioners the hybrid's Intelligent Power Management technology allows this system and specifically it's compressor to accept DC power directly from solar, panels without needing, an inverter, controller and batteries.
Features
AC/DC hybrid split air conditioner.
High efficent unit.
Operates on DC solar or AC grid.
Direct connect "plug & play" to solar PV panels with MC4 connectors.
R410a refridgerant gas.
Intelligent power management.
Anti corrosion technology.
Wide operating range.
Reverse cycle.
No inverter.
SEER 31 on 100% PV solar.
SEER 21 rating on grid power.
Remote control.
Solar energy indicator on indoor unit.
Benefits
Reduces CO2 emissions in the built enviornment.
Smart building/smart design/smart energy.
Energy mitigation, adaptation, and resilience strategies.
Socially responsible.
Aligns with Nett Zero and Carbon Postivie strategies.
Reduces electricity and energy costs.
STC's claimable.
Operates on solar or grid energy.
Improves power factor.
Reduces peak demand and electrical load.
Auto switch over to 240V AC.
Compliance and certification approvals.
GEMS registered.
For more information regarding AC/DC Hybrid Solar Air Conditioners from Solartex, visit solartex.com.au.