Tactile Indicators for Stairs & Ramp Landings from DTAC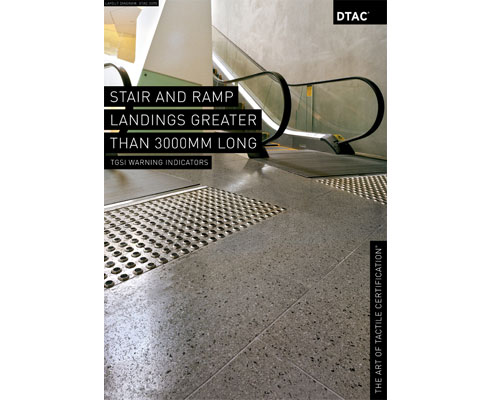 Project: Federation Square
When landings are greater than 3000mm in length from the start of a hazard-for example, a stair, ramp, escalator, etc.-tactile ground surface indicators (TGSI's) should be installed to a depth of 600mm and across the full width of the accessible path of travel. This is applicable to all types of landings-enclosed, open, intermediate, return (180°), with or without continuous unbroken handrails. A larger area of TGSI's assists the orientation of the vision impaired and minimises ambiguity.
In the escalator landing depicted, two pads of TGSI's have been installed to a depth of 600mm between the moving handrails. No handrails have been installed around the perimeter, which would otherwise have supplied the landing with greater usability to all persons.
If a landing less than 3000mm in length was without handrails, it would have only required TGSI's to a depth of 300mm across the entire path of travel. Additionally, if a landing less than 3000mm in length was with continuous, unbroken handrails, TGSI's would have been unnecessary.