Universal Double Sided Open Fire from Jetmaster Fireplaces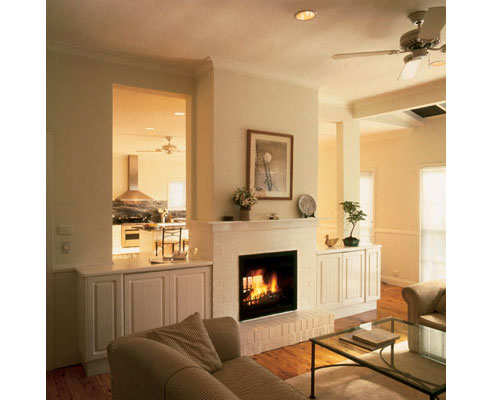 With the Jetmaster Universal double sided open fire you can create an eye catching feature, heat two rooms simultaneously or have it freestanding with an exposed flue. Whatever the application, the double sided provides generous radiant and convected heat. It comes in two sizes the 1050 or the 700. The 700 gas burning has a choice of pebbles, coals or logs.
Features:
Convection air chamber for heat exchange
Can simultaneously heat two rooms
Stunning feature in your home
Can burn wood or gas
Clip on safety screen
NB: A Half glass on one side is recommended to eliminate smoking problems than can occur with Double sided fires. The double sided has a wide range of design possibilities. Period Victorian in one room and stainless steel in the other, the Jetmaster Universal double sided can be suited to any room and any style.